Synbiotic supplementation linked to lowered BMI in overweight children
Researchers have published the first pediatric obesity study to show that a synbiotic treatment, alongside diet and exercise advice, is associated with both changes in intestinal microbiota composition and decreases in BMI.
This trial was the first of its kind to investigate the effect of synbiotic supplementation (L. acidophilus and L. rhamnosus​ and B. bifidum and B. longum​) on anthropometric measurements and intestinal microbiota composition in obese children and adolescents.
In the synbiotic group, at the end of the intervention, an increase in Prevotella, Coprococcus, Lachnospiraceae​ at the genus level and Prevotella copri, Coprococcus eutactus, Ruminococcus spp.​ at the species level compared to baseline was observed.
The researchers from Eskisehir Osmangazi University, Turkey, conclude: "12 weeks of synbiotic treatment was associated with both changes in microbiota composition and a decrease in average BMI; however, decreases in BMI were observed for the placebo group as well.
"Therefore, the differences in gut microbial community changes over time may be explained by synbiotic supplementation, possibly through an interaction with BMI. Apart from our study, promising studies continue that new microbiota-targeted treatment approaches can also be used in the treatment of obesity. In addition, determining and preventing the factors that cause obesity with their effects on microbiota composition in the early period of life is an important strategy in obesity."
Research background
The etiology of obesity is multifactorial, including genetic predisposition and environmental factors. In addition to these factors, the gut microbiota has been reported​ as a factor associated with overweight and obesity.
Gut microbiota manipulation may be a potential therapeutic target to reduce host energy storage​ although a causal relationship between gut microbiota, nutrition and obesity has not yet been established.
It has been shown​ that there are changes in the composition of the microbiota, decreases in body weight and fat mass, improvements in lipid levels, fasting glucose and insulin levels, and decreases in inflammatory factors as a result of the intake of probiotics and prebiotics.
There are studies on the use of probiotics and prebiotics as a support for treatment in obesity and effects on microbiota composition, but most of these studies were conducted in adults. Studies on the effects of synbiotics on obesity in children are limited.
The team of researchers behind the current study previously showed​ that taking a specific synbiotic for 12 weeks in addition to dietary and physical activity recommendations had a positive effect on anthropometric measurements, resulting in a 4% reduction in body weight, a 5.1% reduction in BMI, a 6% reduction in waist circumference, and a 2.4% reduction in hip circumference in a randomized placebo-controlled study.
The authors say: "To the best of our knowledge, no study has evaluated the effects of synbiotics on the intestinal microbiota composition in obese children."
The study
Children and adolescents aged 8 to 17 years with a BMI equal to or higher than 95th percentile were evaluated to see if they were 'exogenously' obese - had no pathological findings other than obesity in the physical examination, whose height was compatible with the chronological age, and whose mentality was normal.
A total of 54 children (n=28 in the synbiotic group and n=26 in the placebo group) were advised about diet and physical activity. The diets of the patients were reduced by 10%; the daily cholesterol intake was regulated to not exceed 300 mg. The patients were advised to exercise moderately for at least 30 min daily.
The treatment duration was 12 weeks. The first group was directed to take 1 sachet each day for 12 weeks (Lactobacillus acidophilus​ 4.3 × 108 CFU, Lacticaseibacillus rhamnosus​ 4.3 × 108 CFU, Bifidobacterium bifidum​ 4.3 × 108 CFU, Bifidobacterium longum​ 4.3 × 108 CFU, Enterococcus faecium​ 8.2 × 108 CFU, fructooligosaccharide (FOS) 625 mg, lactulose 400 mg, Vitamin A, Vitamin B1, Vitamin B2, Vitamin B6, Vitamin E, Vitamin C).
The second study group was given an identical placebo containing the same amounts of vitamins but with no pro or prebiotics.
Stool samples were obtained from participants at baseline and at the end of the intervention. Faecal DNA extraction and sequencing was carried out.
In the synbiotic group, at the end of the intervention, an increase in Prevotella, Coprococcus, Lachnospiraceae​ (at the genus level) and Prevotella copri, Coprococcus eutactus, Ruminococcus spp.​ at the species level compared to baseline (predominance of Eubacterium dolichum, Lactobacillus ruminis, Clostridium ramosum, Bulleidia moorei​) was observed. At the end of the 12th week of the study, when the synbiotic and placebo groups were compared, Bacteroides eggerthi​ species were dominant in the placebo group, while Collinsella stercoris​ species were dominant in the synbiotic group.
The report describes the significance of the changes: "we observed a decrease in the Firmicutes/Bacteroidetes ratio in the synbiotic group after 12 weeks of intervention. Some studies have shown a significant reduction in Bacteroidetes and a higher Firmicutes to Bacteroidetes ratio in obese patients.
"An increase in the amount of Firmicutes to Bacteroidetes leads to methylation of obesity- and cardiovascular-related genes and influences the activity of hormones affecting metabolic function by increasing the ability to harvest energy. Therefore, it seems that lowering the ratio of Firmicutes to Bacteroidetes is beneficial in managing obesity and obesity-related disorders.
"The decrease in Eubacterium dolichum​ bacteria, which are frequently detected bacteria in patients with obesity, supports the positive effect of synbiotic application on microbiota. Ruminococcus albus and Ruminococcus flavefacines​ species are members of the Ruminococcus genus known to produce butyrate, which is a short-chain fatty acid that has some beneficial effects, including providing an energy source for colonocytes and acting as a histone deacetylase inhibitor.
"A relationship between human gut microbiota and metabolic disease exists, but what has to be clarified is whether the change in intestinal microbiota occurs before the development of inflammation or vice versa."
Regarding potential limitations, the authors note that the vitamins in the sachets could have impacted the microbial changes. They also point out that they didn't strictly measure how well all children stuck to the diet and exercise advice so this could have impacted results. They also neglected to analyse other elements of the microbiota composition.
Source: Gut Pathogens​
https://doi.org/10.1186/s13099-023-00563-y
"Effects of synbiotic supplementation on intestinal microbiota composition in children and adolescents with exogenous obesity: (Probesity-2 trial)"
Authors: Kilic Yildirim, G., Dinleyici, M., Vandenplas, Y. et al.​ 
Free Whitepaper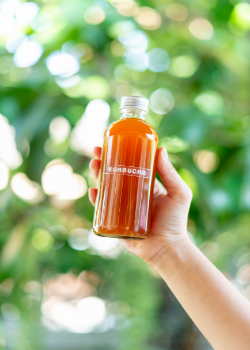 Kombucha and Probiotic Juices in the APAC Region
Boost your business success! Download our free whitepaper for expert insights on consumerengagement and influencing factors.

Download Now