Probiota Americas Poem: Our editor's rhyming welcome to this week's Digital Summit
A Probiota America tradition, my welcome poem gives attendees a glimpse of what to expect during the event. And this year, I've added a special message ... and a fire place.
Over the three days, the IPA World Congress + Probiota Americas Digital Summit​​ (November 10-12) will feature live two-hour sessions, offering attendees keynote presentations, live panel discussions, presentations from the leading categories leading players, and live Q&A sessions.
The Digital Summit will bring together experts from Seed, UAS/Chr. Hansen, Lonza, Embria (Cargill), North Carolina State University, University College Cork, ADM, KGK Science, Probi, the International Probiotics Association, the Lawson Health Research Institute, and many more.
The event will also feature a range of exclusive on-demand content, including our Probiota Champions​ interview series an exclusive stand-up set by the Probiotic Comic himself, Mr Ivan Wasserman. 
And, the Probiota Americas wellness program continues with a virtual run. Participants can run/jog/walk at your own pace in any place on Wednesday, November 11, and by sharing their activity on social media using the hashtag #Probiota , they'll be automatically in the prize draw for a $100 Amazon gift card. 
Probiota Americas Poem 2020
by Stephen Daniells 
We should have met in May, but I'm not sad, far from it.
Because we're meeting now at our Digital Summit,
It's nice to speak to you all without a mask on my face
As we brace for the winter and shelter in place
This year has been tough. Do I look older to you?
But we'll get through it together, and you know that, too
But it's not all been bad, not all doom and gloom
As we adjust to this new normal and spend hours on Zoom
This year's been good for the nutrition industry
As people seek out Zinc, elderberry and vitamin D
And for the biome players, too, so much has transpired
So many good things, so much to be admired
It's been quite the year, I think you'll agree
The big news – Jarrow sold to private equity
Also big, Chr Hansen and UAS joined forces this year
They'll be stronger together, that much is clear
Kerry just bought BioK-plus
And if you've seen their great science, you'll understand all the fuss (it's very good science)
Deerland finally completed its Bifodan buy
And Spain approved the use of "probiotic", oh my, oh my
Many Lactobacillus​ are Lactobacillus​ no more
That's right, 23 new genera that were not there before
But it hasn't all been great, not all sunshine and roses
Sometimes when one door opens, another door closes
60 Minutes on CBS took a swipe at our bugs
And JAMA again said they should be treated like drugs
The airlines are missing George more than you know
But Ivan's still funny and stealing the show
He's performing for us, I will have you know!
So let's look ahead to our few days together
As we share common interests, like birds of a feather
What else to expect during days 1, 2 and 3?
Well, we've got lots of great content and all of it Free
On Day 1 it's CRISPR, ecology and next-gen
New Horizons is the name for the day, and then
Day 2, looks at health benefits beyond digestion
From cognition to sports – we'll ask every question!
Day 3 is about communicating with consumers
Gen X and Millennials and Baby Boomers 
But that's not all, we have on-demand stuff, too
So much good stuff I can't wait to share with you 
We have Champions of business and laboratories,
All opening up and telling us their stories.
These people are greats and so give them a watch,
They have done so much and we owe them a lot.
Check out Ivan and have a good laugh out loud
But don't worry – he didn't really perform in front of a crowd. 
That's it from me, but before I go away
There's one more thing that I'd just like to say
If I could take this last opportunity
And say thanks for being a part of our community
And remember as we get to the end of this year,
There's a lot to be thankful for, a lot to hold dear
Be kind to each other and be kind to you, 
We'll get through it together, and you know that, too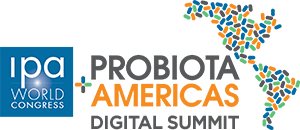 NOVEMBER 10 - 12, 2020   ●   3-DAY SUMMIT
Connecting the business and science of the microbiome