Probiota Champions: Exclusive interviews with industry influencers
In addition to three days of live content, the IPA World Congress + Probiota Americas Digital Summit 2020 will feature our exclusive Probiota Champions interview series with people who have made significant contributions to the category.
Featuring Prof Gregor Reid, Prof Glenn Gibson, Nancy Hamren, Jarrow Rogovin, Dr Mary Ellen Sanders, and Prof John Bienenstock, the interviews explore their lasting contributions to the probiotics, prebiotics and microbiome categories. 
The Probiota Champions series delivers their stories, told by them: How they came into the category, what the early challenges were, some of the key turning points in the trajectory of the category/ categories, what they're most proud of, and what they think is coming next. 
The interviews will be published exclusively during the IPA World Congress + Probiota Americas Digital Summit​​ 2020, November 10-12. 
Over the three days, the Digital Summit will features live two-hour sessions, offering attendees keynote presentations, live panel discussions, presentations from the leading categories leading players, and live Q&A sessions.
The Digital Summit will bring together experts from Seed, UAS/Chr. Hansen, Lonza, Embria (Cargill), North Carolina State University, University College Cork, ADM, KGK Science, Probi, the International Probiotics Association, the Lawson Health Research Institute, and many more.
The event will also feature a range of exclusive on-demand content, including an exclusive stand-up set by the Probiotic Comic himself, Mr Ivan Wasserman. 
For more information and to register for FREE, please click the image below.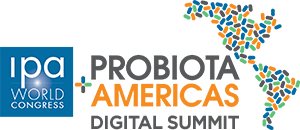 NOVEMBER 10 - 12, 2020   ●   3-DAY SUMMIT
Connecting the business and science of the microbiome