ADM: 'Postbiotics aiding the convergence between foods, beverages, & supplements'
With 9% growth predicted from 2021 to 2026 and the surging consumer interest in non-pill delivery formats, postbiotics could be primed to rival probiotics in a few years, according to ADM's Vaughn DuBow.
DuBow, ADM's Global Director of Marketing – Microbiome Solutions, speaking with NutraIngredients-USA at SupplySide West 2023, said he predicts that postbiotics will match probiotics in the next few years, because there's tenfold more interest.
"The increasing attention on postbiotics can be attributed to the strains' robustness," he said. "When working with heat-treated postbiotics, formulators don't have to make adaptions for live colony forming units (CFUs).
"This enables postbiotics – such as the heat-treated postbiotic versions of our BPL1 (Bifidobacterium animalis​ subsp. lactis​ CECT8145) and ES1 (Bifidobacterium longum​ CECT7347) strains – to survive during harsh processing conditions like high heat or water content. This makes them suitable for a nearly limitless range of foods, beverages and dietary supplements, answering consumers' calls for more wellness offerings that can fit their individual lifestyles and personalized goals."
DuBow also cited data from Frost & Sullivan's 2023 Growth Opportunities for the Nutrition & Wellness Industry report, which stated that postbiotics are projected to have a CAGR of 9.3% during 2021-2026.
The potential is supported by data from Lumina Intelligence, which tracks the ecommerce market including online sentiment. According to a January 2023 report, Lumina was tracking over 400 postbiotic products around the world marketed via ecommerce platforms. The leading market globally was Japan with 72, followed by South Korea (43), and then the US (40).
In terms of online sentiment, postbiotics are "the most satisfying biotic product on the market", according to Ewa Hudson, Lumina's Director of Market Insights.
Delivery formats​
As any industry stakeholder will know, gummies are everywhere in the general supplements space, and "postbiotics are excellent inclusions for gummies," said DuBow, "as gummy production typically includes high heat and high water activity, which postbiotics can endure. This comes at a time when convenient formats are critical to capture and hold consumers' attentions.
"In fact, market research shows that chocolates, bars, drink shots and hard candies with functional attributes, in addition to gummies, are emerging as the most preferred formats among consumers," he said, again citing the Frost & Sullivan report. "Offerings that taste great and require minimal effort to prepare are also essential for adherence, which can ultimately help support people in achieving their wellness goals."
Definition​
Postbiotics have burst onto the scene over the past couple of years, particularly following the publication of a consensus definition by the International Scientific Association for Probiotics and Prebiotics. ISAPP defines a postbiotic as "a preparation of inanimate microorganisms and/or their components that confers a health benefit on the host" (Salminen, et al. Nat Rev Gastroenterol Hepatol​​. 2021, 18​, 649–667)
The definition has been debated in academic circles, and it is not clear if all the postbiotic products on the market diligently adhere to the definition. From a consumer perspective, "postbiotics are also beginning to rise in familiarity," said DuBow, "with consumers associating them with similar benefits of probiotics."
Pro vs post​
ADM opened a $30 million facility in Valencia, Spain where probiotics and postbiotics are produced simultaneously, said DuBow. "Specifically, we are able to produce both probiotic and postbiotic versions of our BPL1 and ES1 strains. This helps our customers bring tailored, science-backed solutions to consumers," he said.
So, what does the data show in terms of efficacy between pro- and postbiotics? "Research on the efficacy between probiotics and postbiotics depends on the strain itself," said DuBow. "With a larger body of research currently concentrated on probiotics, health and wellness brands, along with consumers, may reach for a probiotic that has shown to provide the targeted wellness support they're seeking.
"While postbiotics are aiding in the acceleration of the convergence between foods, beverages and dietary supplements by enabling a wider range of formats available that deliver support for the microbiome, there is extensive space for more studies on specific strains. Further, regulatory differences must also be taken into consideration. These differences can make both probiotics and postbiotics valued solutions, depending on the circumstances." 
Discounted Reports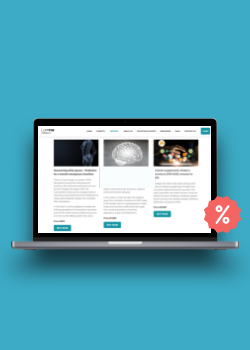 Lumina Intelligence Discounted Report Bundle
Dive into Lumina Intelligence reports on Probiotics for Pets, POSTbiotics, and a Smooth Menopause Transition. Limited time offer—empower yourknowledge now!

View Here