Liquid-liquid encapsulation innovation offers simple, low-cost opportunities for nutraceuticals
An innovative more affordable liquid-liquid encapsulation system may offer multilayer encapsulation in milliseconds and expand production opportunities for new products by encapsulating multiple core materials in the same parcel.
Researchers at the University of Waterloo in Belgium have reported the development of a simple, low-cost method for accurately encapsulating core materials, which could be pure liquid or liquid containing suspended functional ingredients.
Encapsulation is used extensively for dietary supplement formats to protect the core ingredients/materials and safeguard them from an aggressive environment, and/or control the release of the cargo material to a targeted area.
According to the Waterloo researchers, this is conventionally done by creating a thin coating layer of polymers or nanoparticles or surfactants or powders around the core material, or by wrapping it in a thin bendable solid polymer sheet. Such encapsulation can be costly, complex, and existing methods may limit the cargo volumes or other factors.
In a reported advance, Sushanta Mitra, executive director, Waterloo Institute for Nanotechnology and professor of Mechanical & Mechatronics Engineering at the University of Waterloo, and his co-workers have exploited liquid-liquid interfacial energy differences to create a simple and low-cost method for accurately encapsulating a liquid core material with a thin liquid film(s) with controllable thickness.
The process, known as a liquid-liquid encapsulation system, introduces a drop of core material through a nozzle, which impacts on a host bath, containing a floating shell layer on the surface.
When a complex interaction of the core material with the shell layer occurs, it creates a stable encapsulation which protects the core material and safeguards it from an aggressive environment enabling a timely release of the cargo material to a targeted area.
 "The key to this technology is that everything is in liquid state – the core, the shell, and finally submerged inside a liquid bath. This provides extraordinary flexibility in terms of core shell combinations. At least 15 of these types of combinations have already been demonstrated," explained Dr Mitra.
"It is ultrafast with each encapsulation taking only 50 milliseconds. This technology is at least 5,000 times less energy intensive and it avoids the introduction of any microplastics in the encapsulation process," he added.
This technology could be useful in the nutraceutical, pharmaceutical, food and beverage, cosmetic and personal care industries, said the researchers. For example, the use of soft gel filling encapsulation machines in the nutraceutical industry could reduce operating costs and expand development and production of new products as multiple core materials can be encapsulated and delivered in the same parcel, they said.
Prototype​
Dr. Mitra and his team have reportedly developed a robust prototype with four injection nozzles that can deliver up to 200,000 encapsulated cargo in an hour. They are also collaborating with partners and product manufacturers in the Netherlands to integrate the curing stage with their prototype so the encapsulated cargo could be extracted as individual capsules on demand if needed.
"In the end we strive toward being a sustainable and innovative encapsulation entity that meets the UN sustainable development goals," said Dr Mitra.
To watch Dr Mitra discuss the new technology, watch the video below: 
Free Whitepaper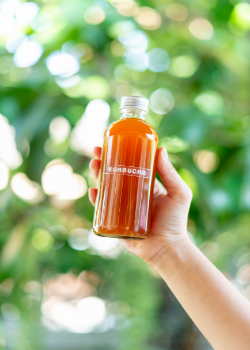 Kombucha and Probiotic Juices in the APAC Region
Boost your business success! Download our free whitepaper for expert insights on consumerengagement and influencing factors.

Download Now